Map System
SAT-COM
PTT(Push to Talk)
AIRCRAFT TRACKING SYSTEM
Traffic Advisory System
GPS
RADAR ALTIMETER
ADS-B RECEIVER
2301 FMS/GPS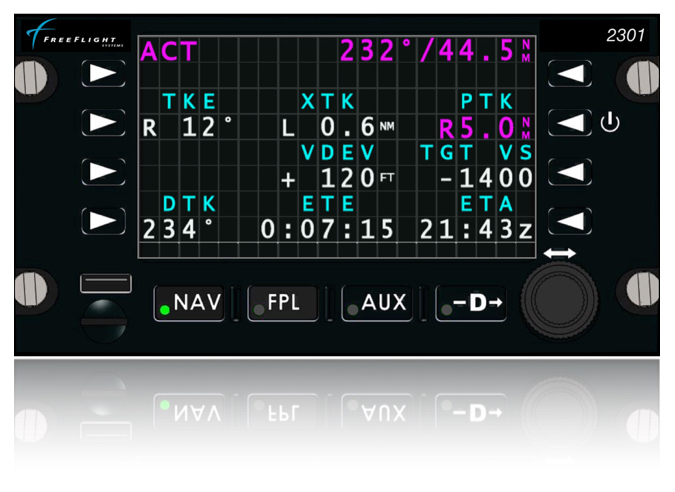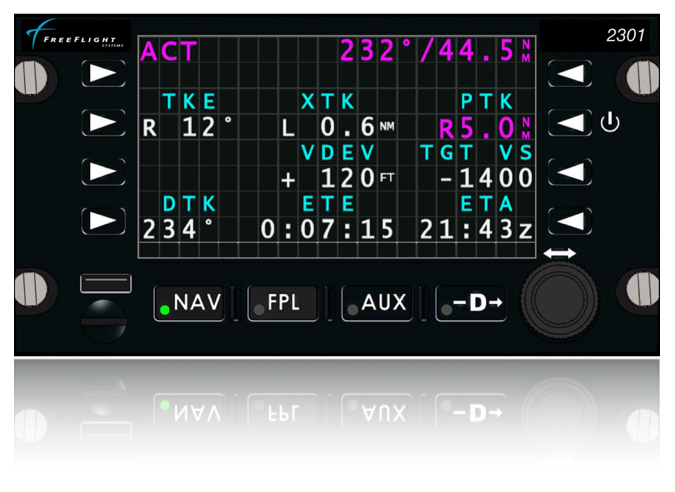 NEXTGEN FMS/GPS
The 2301 FMS/GPS is a fully self contained Flight Management System designed to provide high performance IFR navigation and GPS based landing capability (LPV) for fixed and rotary wing aircraft. The 2301 FMS/GPS supports numerous current and planned NextGen applications.
2301 FMS/GPS
The 2301 FMS/GPS is packaged as a Dzus mount system for installation in the center console and uses the same connector type and pin-out as its successful predecessor, the 2101 I/O Approach Plus. Additional functionality such as LPV steering commands are outputted on a new rear mounted connector. For applications not requiring LPV, the 2301 is a complete form/fit and function replacement for the 2101.

For advanced applications such as LPV, the integration of navigation and capabilities in a single box makes transition from en-route to terminal and approach modes seamless. This makes the 2301 FMS/GPS an ideal retrofit system, eliminating the need for complex switching and annunciation, even in legacy aircraft.

The built in GPS engine will also provide position source data to an external ADS-B solution, while containing internal controls for both UAT and transponder based solutions. The system and software architecture is designed to enable integration with both "company" and ATC datelines. The design assurance of the system will enable digital ATC commands to be directly executed with simple pilot consent.

In addition to support of the same comprehensive I/O set as the 2101, and the additional I/O required for coupled LPV, the 2301 FMS/GPS also supports external inputs for cursor and soft key actions enabling HOCAS/HOTAS operation of the system in suitably equipped aircraft.


SPECIFICATIONS
Model : 2301 (LPV Capable GPS Flight Management System)
Antenna : WAAS GPS (Any TSO-C190 Antenna)
Database Capacity : No practical limit
Database Loading : Via USB
CERTIFICATIONS
System : TSO-C146d (Class Gamma 3)
Environmental : DO-160G (Including Rotorcraft Vibration Profiles)
Temperature Range : -20°C to +55°C
Temperature Antenna : -55°C to +70°C
Operating Altitude : 50,000 ft
Design Assurance(Software) : DO-178C Level B
Design Assurance(Hardware) : DO-254 Level B
PHYSICAL CHARACTERISTICS
Mounting Scheme : Dzus Rail (Center Console Standard Width)
Size : 5.75" W x 7.68" D x 3.0" H
Weight : 2.8 lbs
Antenna : 0.4 lbs
ELECTRICAL CHARACTERISTICS